Dual Fuel Refurbished Ranges
Refurbished Ranges is the undisputed specialist in refurbished ranges. A traditional range cooker not only ooze charm and character. The practicalities extend beyond preparing a meal. Traditionally, they are only powered by burning solid fuel such as wood or coal. Range cookers have evolved with technology, and under their timeless appearance, the option for fuel now includes gas, electric, even a mixture of both. Depending on the layout of your kitchen and your bespoke requirements from the cooker, our extensive experience in the industry means we can find you the perfect cooker.
A used range cooker can be up to 75% cheaper than a brand new model, and it doesn't mean that quality is at all compromised. We are the leading experts in the repair and restoration of AGA and Rayburn range cookers. Our showroom houses a variety of ranges refurbished by us. From a two-door classic cream AGA to the dual-fuel restored range, speak with a member of our friendly team on 01209 214 774 to see how we can help.
Reconditioned AGAs
We know an AGA inside and out. Each of our second hand AGA cookers has been inspected carefully and fitted with new liners and seals if needed. We could also re-enamel the exterior and replace chrome lids and gaskets
AGAs are seen as the pioneers of the industry. Initially designed to be multi-functional appliance which radiated warmth as well as prepared meals, the elegant design has since secured it a position in the homes of many. Because of their durability, a reconditioned AGA is often of no less quality than a brand new model. Some may even argue this adds an extra layer of character.

We treat each cooker with care and respect as if it's being fitted in our homes. It is are highly resilient and created from the effective high quality cast iron. It is versatile and adaptable and readily available in a variety of fuel types and dimensions, with between two to five ovens, suitable for homes of all sizes. They are also available in a vast choice of colours, from bold postbox red to muted heather, there's a shade to suit your kitchen.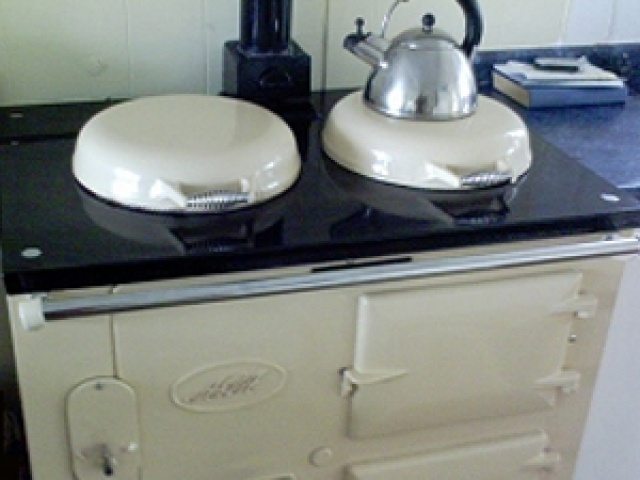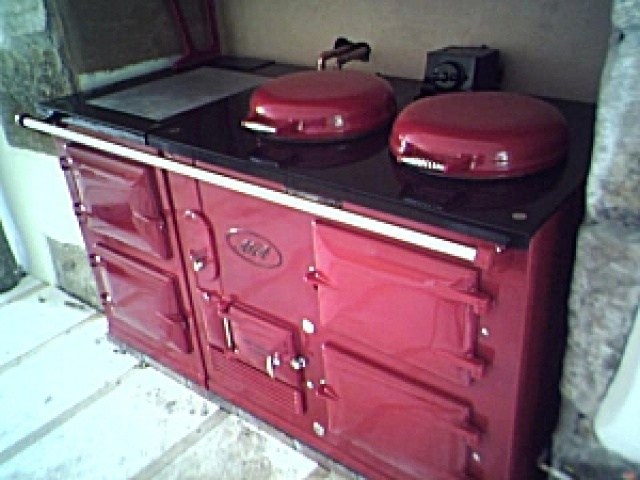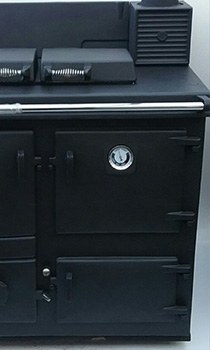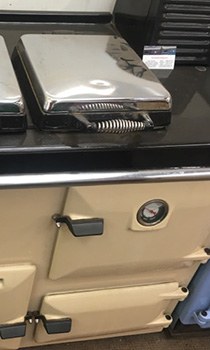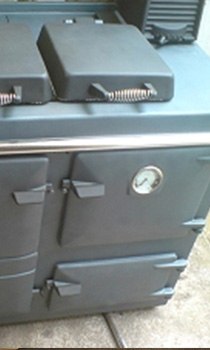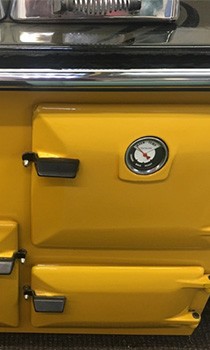 Second Hand Aga Cookers
Second-hand AGA cookers often boast the same performance output as a new model. The cast-iron casing and ease of part sourcing mean that their working life is hugely superior to other stoves and cookers. It's not uncommon to find appliances over 50 years old to be in perfect functioning order. AGA cookers are the ideal centrepiece of any country kitchen. Because of their bright enamel casing, they can add a splash of colour and energy to an important living space.
AGA cookers are available in a variety of sizes and fuel options. Depending on your bespoke requirements of the cooker, some fuel options may be more suitable than others. For example, solid-fuel burners require a fully lined chimney to be installed, whereas electric versions can be installed almost anywhere in the house. Refurbished Ranges can offer an assessment of your current kitchen and advise on the best fuel option and model for your kitchen.

Second Hand Cookers For Sale
At Refurbished Ranges we stock a huge range of second-hand cookers for sale. With 20 year's experience, we have an in-house restoration team so you can be sure that each cooker has been given the attention it deserves. Second-hand range cookers are excellent value for money as they are only a fraction of the cost of a brand new model yet offer the same quality. Their timeless design allows much of the original features to be retained when reconditioned, but the internal parts can be easily replaced, thus extending the working life.
We are also experienced in the repair of AGA and Rayburn cookers, stocking most parts with an installation service if required. Whether you already have a model in mind, or in need of advice as to which is the perfect cooker for you, give us a call. We will be more than happy to help with your query.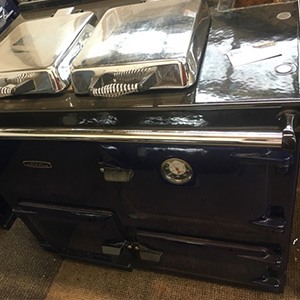 Cheap Dual Fuel Cookers
Modern dual fuel cookers nowadays are a combination of gas and electric, and the designs have also evolved to be more sleek and contemporary. However, the charm of a traditional range cooker simply cannot be replaced by cheap dual fuel cookers.
Often a fraction of the price for a fraction of the lifespan, with AGA and Rayburn cookers you simply get more than a cooking appliance. The authenticity of a range cooker can bring life to a country kitchen.
If you have chosen a solid fuel option, the well-loved heat retaining principle will even help to reduce heating bills. Alternate fuel options may be beneficial in some cases, for example, the electric-powered models negate the need for a prefabricated chimney.
Where Can I Buy a Range Cooker?
If you ever find yourself asking, "where can I buy a range cooker?", the simple answer is Refurbished Ranges. We have an extensive showroom with a huge range of cookers available. We expertly restore each unit with new parts and carry out a thorough inspection to ensure it's performing optimally.
We stock a range of well-known brands from AGA, Rayburn and Royal Solid Fuel cookers for sale. Whether you're looking for a basic two-door model for a small cottage or a four-door model with a comprehensive heating system to suit a stately country home, we have the perfect range cooker for you. We can also provide full installation service throughout Cornwall and Devon with our in-house, experienced installers.


Range Cooker Dual Fuel
Dual Fuel is fast becoming one of the most popular types of traditional range cookers because of their versatility. Usually a combination of gas hob and electric oven, the best of both are combined in one appliance

.
Gas hobs are preferred by many chefs for their responsiveness to changing temperatures. However, a gas oven is not for the novice baker as temperature varies in the cavity of the oven, and can lead to uneven cooking. An electric oven means this can be easily resolved. By combining the two, you have a multifunctional appliance which is capable of preparing multiple meals at once. Although it lacks the constant heat output of a solid-fuel range cooker, this is more suited for the modern home as it offers more flexibility to the layout of the kitchen, where a constant heat source may not be required.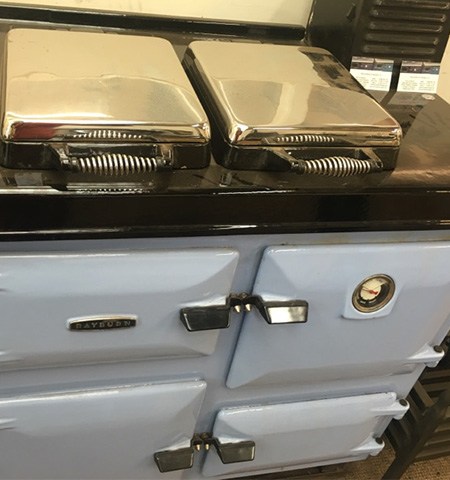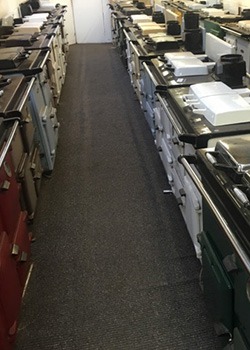 Second Hand Rayburn
Rayburn cookers are one of the leading manufacturing brands in the industry. They are very similar in construction and design to AGA cookers. A traditional British company established in the 1940s, many of the units produced from the time is still in use till this day, which stands testimony to their efficiency and durability.
Rayburn and AGA cookers work with the same heat retaining principle. This means that they are not only used for meal preparation but can also maintain a domestic central heating system, some up to 9 radiators. Second-hand Rayburn cookers report no loss of performance over the years under routine maintenance. Over the years, they are also adapted to operate with different fuel options and have even developed models especially for left-handed users.
Vintage Range Cooker
Because of their resilience and durability, it's not uncommon to find aged AGA and Rayburn range cookers still functioning in perfect order. Their cast-iron casing and timeless enamel exterior are well-known for their lifespan.As mentioned before, many of the initially produced Rayburn cookers are still in use today. Their design still meet the demand of many; a well-looked after range cooker can provide life-long service and certainly add value to a property.
At Refurbished Ranges we can also repair and service your AGA range cooker, even if you didn't buy it from us. We readily stock a wide range of spares and can carry out the repair in your property to minimise disruption. Our servicing plans can be bespoke to your requirement. In the case of an emergency, our expert engineer aims to be on site within 24 hours.
Refurbished Ranges
AGA House
Scorrier Road
Cornwall
TR16 5AA